The play hadn't finished yet. There were two comic actors yet to go. We had done our part. We had gone back to the dressing room. Little by little we were getting back into ourselves.
"It seems like they laughed!" Said Roberto.
Roberto was my partner on stage.
"They laughed yes!" I answered.
We had done an extract of our show. Twelve minutes exactly. We had been told not to do more than fifteen. There were six comic actors on the list. We were the fourth ones. It would have been worse had we had to open or close the show. We just had to be careful with timing.
Timing.
When the lights had gone on, on stage, I had immediately noticed I couldn't see the audience's faces. I knew that. The theatre was way bigger than the places we were used to do our show in. I didn't like it when I couldn't see people's faces.
"But did you hear them?" Asked Roberto.
"Yes… we got them from the way beginning!"
"They laughed huh?"
"They did too!"
I listened to my voice, which was slightly out of tune. Tension was slowly decreasing. Yet we had made it. Before entering the dressing room I had also had eye contact with the comic actor that was supposed to play after us. He had given me a worried look. It's not easy for a comic actor to enter the stage after another comic actor who has been very funny. I understood his drama. Sometimes it had happened to me, to have to go out right after someone who had broken down the audience. In that moment you know you're really alone and you know it'll be tough.
A year had passed since I had decided to prepare a play with Roberto. Together we had been studying a couple of characters that were polar opposites of one another. It was a risk because we were breaking out of a mold. Neither of us was the stooge for the other. We were two clown masks getting excited and speaking restlessly in a growing grief. We brought some kind of clumsiness on stage. We played open face with the audience.
"They laughed a lot!" Said my friend again.
Then the door opened and Fellini appeared.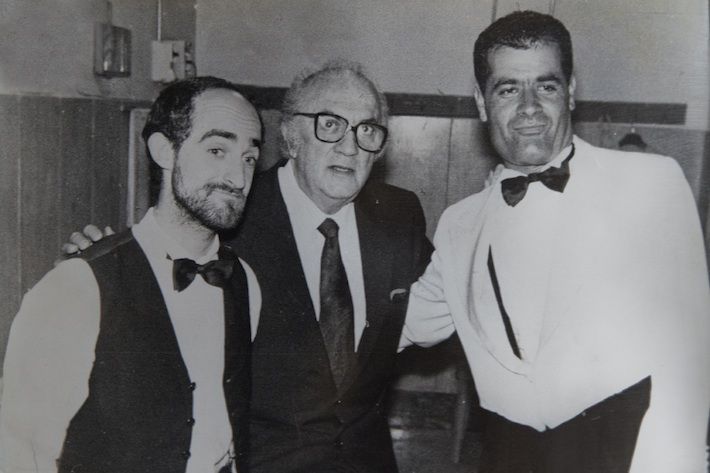 Angelo Orlando, Federico Fellini, and Roberto Russoniello
He immediately began asking us several questions. And while he did, he wiped his face with a napkin.
"But who are you two? Where did you come out of?"
His face was red and his eyes were wet with laughter. Once in a while he'd stop and then, suddenly, burst out laughing.
The most absurd thing that could happen to a comic actor around the end of the eighties was the dressing room door opening and Fellini coming in to congratulate him. I was living that exact absurd thing. But there was a little problem…
I didn't know that man was Fellini.
He had a vaguely familiar face. I thought he was the director of the theatre and that he was congratulating himself. I realized my friend had a bewildered face that probably looked just like mine.
That man laughing, red in the face and with tears in his eyes, told us he had had so much fun he didn't want to see any other comic actor.
I was happy and surprised…
Happy because we had just killed in one of the most important theaters in Italy. And this man was clearly a hotshot – the theatre's director, perhaps. Maybe he would have put us in a show for the coming season.
Then he spoke to us about the movie he was making. He told us it was a movie about madness. And he absolutely wanted to give us a part. After I don't know how long, he finally opened the door to leave. I realized right then that the man was not the theatre's director. There was a crowd of photographers that immersed us with flashes (I still have a picture of that moment, in which one can clearly see my surprised face). The photographers would say: "Maestro, maestro…" and would take a rattle of pictures. In that instant my neurons connected.
I remembered.
And a name was typed in my mind. Like a neon sign connected to the brain.
Lightning.
And a silent exclamation came out of my thoughts: "It's Fellini!"
Then we spoke with Fiammetta, his secretary, a girl with long red hair. We made an appointment for a few days later, in his office, at the studios. We went by car, Roberto and me. We were quite in disbelief. Full of questions. In his little room at the studios in via Pontina, a few miles from the center of Rome, Fellini greeted us as a father greets the sons he has lost track of for years. He told us the whole film he had in mind, scene by scene. And I immediately understood which role he wanted to offer me, it was a fundamental character in the story he had in mind.
I didn't think about movies. I mean I did a little bit, but I thought it would have happened way further in time. I thought after many years of shows, plays, television, maybe some director would call to offer me a leading role.
Behind his desk, Fellini spoke to me. He explained the character while he drew. In the end, he showed me what he had drawn. It was me – and it wasn't me. It was me in a caricature, with the character's clothes. I had become a Fellini's creature. I had ended up in his drawings and, so, in his dreams. We spent the whole morning with him.
My friend was also offered a nice part. And then Fellini went on telling us the details of the film. He told us the names of the other actors he had chosen. He told us the leading characters were Roberto BenigniandPaolo Villaggio. Surreal. And then he went on telling us our character's relationships, actions, scenes. Step by step, the story of the movie was revealed, as if it were really a dream he had made. He told us he wanted to dedicate this movie to the mad, to those who enter a dimension where reality is no longer important for them.
Only many years later, I understood the gift he had given us. He had guided us, holding our hands, through a visualization of this story. And I, for an instant, had felt perfectly integrated in his imagination.
He walked us out of his room, and then he went on walking with us along the corridor, and then out of the studios and then, ever more gracious, he walked us all the way to our car. We said goodbye.
In silence, I kicked the start and left. Fellini was still there. He lifted his hand and waved goodbye. I didn't look in the rearview mirror, but I knew that, probably, Fellini stayed there watching the car until it disappeared from his view. This was the first meeting with him. Others followed where, little by little, Nestore's character, my character, came to life.
A few months later the shooting of La voce della Luna began, and my life wasn't the same any longer. Fellini often wanted me with him even when my character wasn't on the working plan. He called me: "Angelino…" and sometimes he would take me to lunch in a restaurant near the studios. I think he loved me, and often he would reassure me on the work I was doing.
Twenty years have passed. Today I am an independent filmmaker.
The experience on the set of La voce della Luna has certainly been important, even though when I was actually going through it, I didn't question my circumstances. Through time, I understood that meeting Fellini and my experiences working with him were important to my personal investigations as an artist. If you don't eventually question and examine your experiences, you cannot learn. Questioning oneself is important. Otherwise it means you haven't accepted or explored yourself as an artist and you're fine with simply being an entertainer.
Fellini was an artist; a great artist. He constantly transmitted greatness with his childlike look, with his genius strokes on set, and also with his tantrums. Fellini had freedom painted over his face.
He had built his freedom step by step. He had earned it on field.
In my life, Fellini came suddenly, the same way, years later, a wave of change came into my life that made me turn to a dream: a freedom of expression which goes beyond any rules of show business and, in particular, the film world. This is why today I can say I am truly independent. I need to make films with absolute freedom. It's a path similar to many others who feel the need to express themselves without creative interference. A filmmaker is a searcher and he needs to be surrounded by men and women who are similar to him – Those who intimately feel a deep connection with a part of them that is tightly bonded to this spirit of freedom. This is why it is important to be surrounded by the right people, recognize one another, and keep tight together, like a roped party climbing a mountain. A film is planning a goal together and then setting out to reach the summit together.
I often think about Fellini. I ask myself how my life would have been if I hadn't met him. I often ask myself if he felt the same things I feel when he had the idea for a film. The sudden lightning, fecundated by who knows who and who knows what. Your days go on, you do other things, but meanwhile a part of you is already thinking about an idea that little by little grows and invades you to the point you have to begin writing it. Pulling it out of you. Giving birth to it. So it comes into the world a film. And one day you understand that cinema has become your life. And when you're alone, you sometimes think about your mentors and about the people that have influenced you and infused you with their passion and love for art and life. And Fellini is there, as an island to come back to through memory: an island where I can rest and at the same time charge my energy. A bit like a sun that shines so bright, that it can clear any night in my life.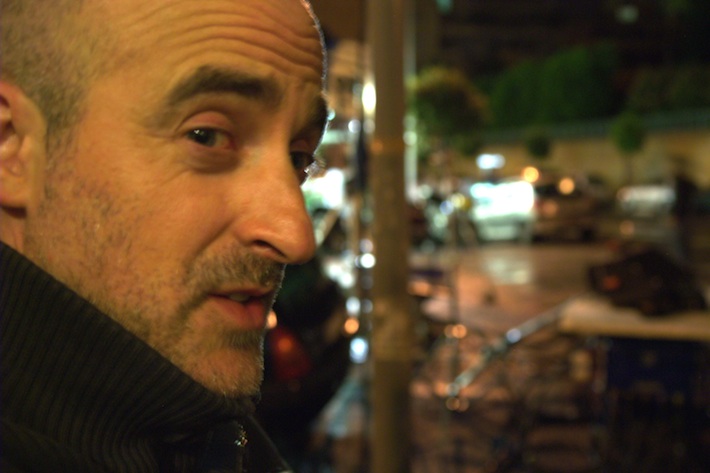 Angelo Orlando
---
Angelo Orlando was born in Salerno, Italy and is a scriptwriter, director, actor and independent producer.
He had his real breakthrough in 1990 when Fellini gave him the role of Nestore in his last movie La voce della Luna, and the following year, in Massimo Troisi's film I Thought It Was Love, for which he won theDavid di Donatello award as best supporting actor.
In 1994 made his first film as director, L'anno prossimo vado a letto alle dieci, a movie inspired to Andrea Pazienza's comic strips. In 1998 he wrote his second feature film, Barbara, rewritten for the theatre a few years later. In the same year he wrote Tobia al Caffé, a film by Gianfranco Mingozzi. In 1999 he wrote the screenplay Outlaw, a film by Enzo Monteleone, nominated by the Italian National Sindacate of film Journalists amongst the best Italian scripts in 2000. His debut in literature in 2001, was with Quasi Quattordici (Nearly fourteen), almost an autobiographic story, a diary of a child in a southern country of Italy.
In November 2005 he won the Solinas Prize with Casamatta Vendesi, best comedy screenplay. Sfiorarsi is his third film and was written together with the actress and scriptwriter Valentina Carnelutti. Sfiorarsi is awarded in several national and international festivals, a distribution Atalante Film in collaboration with the Film School Sentieri Selvaggi.
In 2007 he wrote the screenplay for "Sandrine in the Rain".
In 2008 with the Association La Teca, turn the Short Movie, The Day After, in 2009 the short film Giro Giro Tondo and in 2012 One Hundred Second, selected in the "Short Film Corner" at Cannes Festival.
In 2010 is among the finalists of the screenplay Solinas Cinq, sei, sett, ott… written with Valentina Russo.
Since 2005, the Association of Humanity and Culture La Teca, holds seminars on the craft of the actor, creative writing workshops, script, direction and cinematic language, in Rome, Trento, Genova, Legnano, Lugano, Sassari.
He lives now in Barcelona, Spain. His latest feature "Rocco tiene tu nombre" is in post production.
Angelo is available for remarks and questions in the Comments section below. Take advantage!